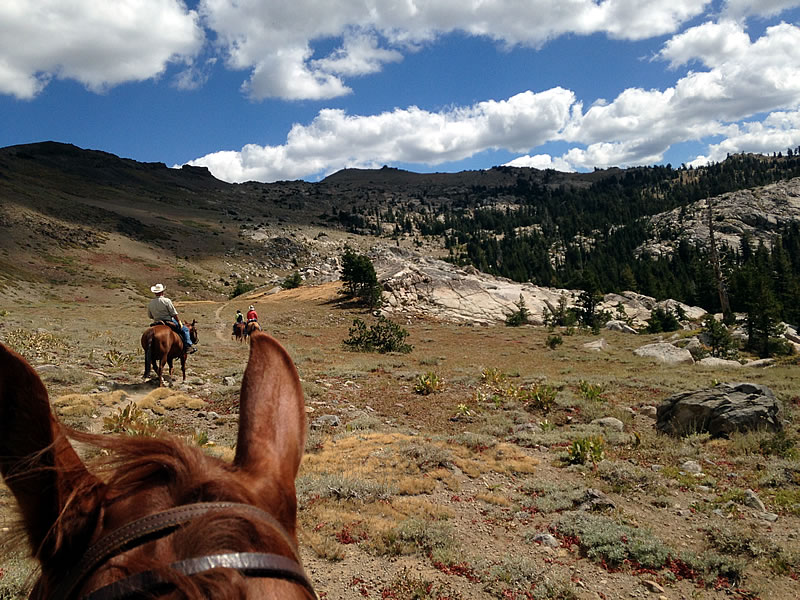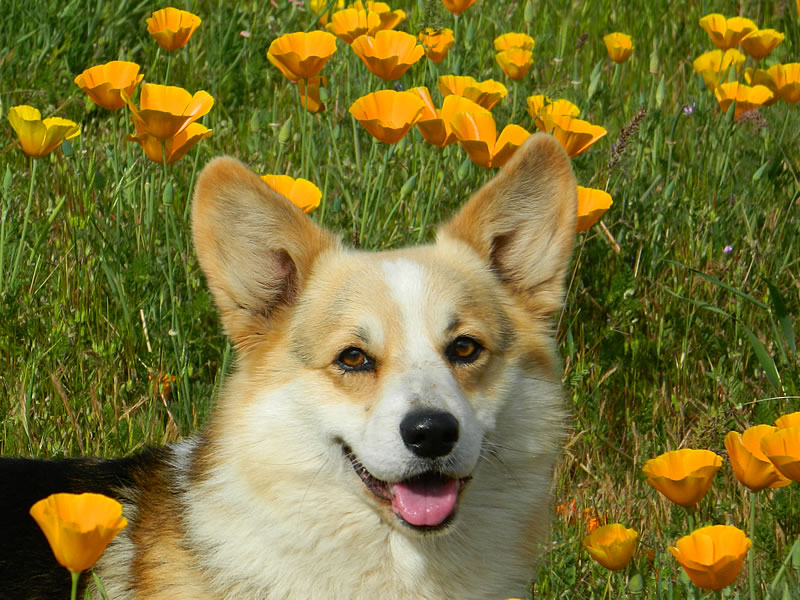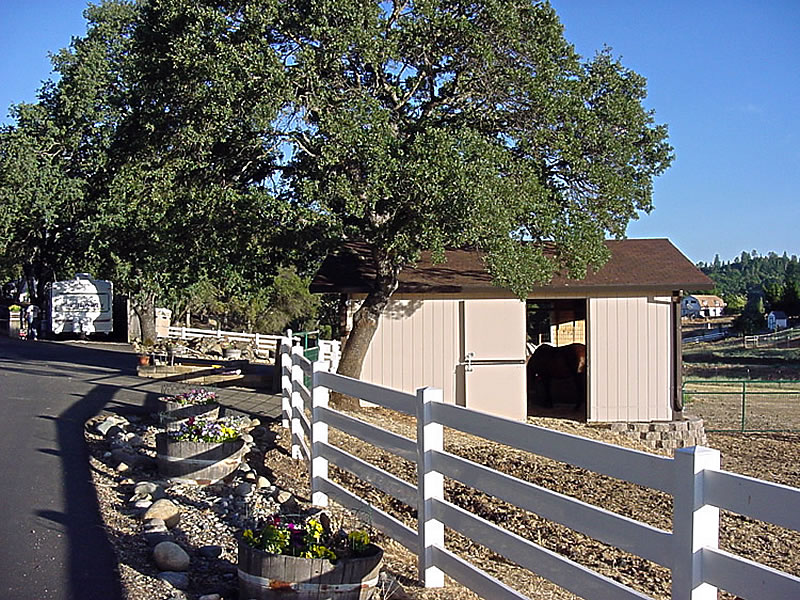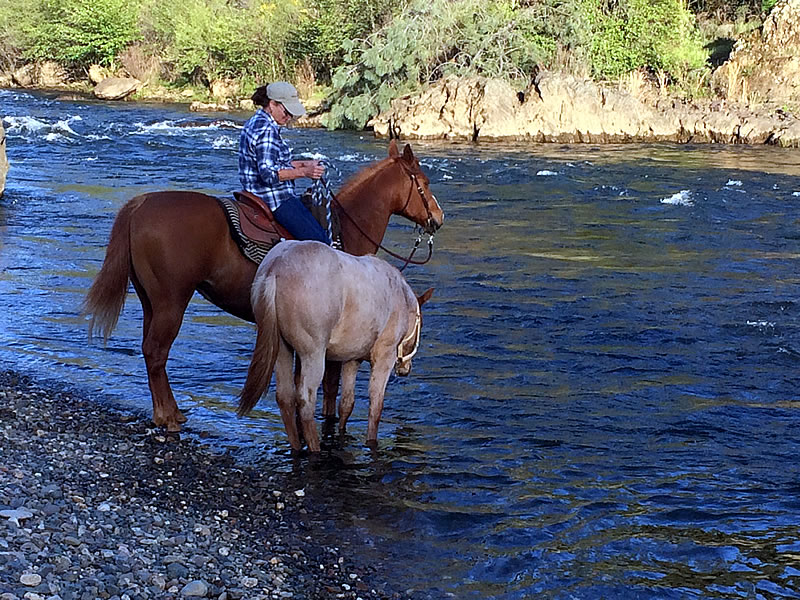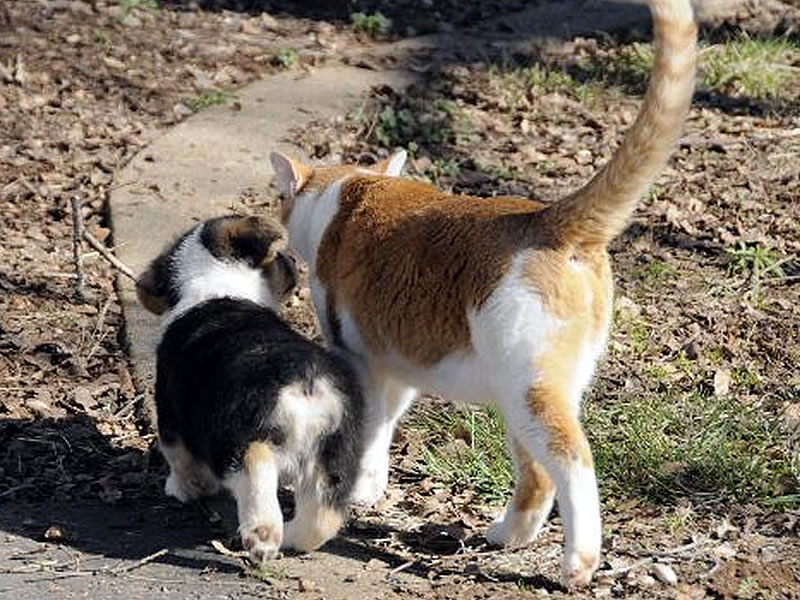 About

We've been here in Shingle Springs, in beautiful El Dorado County, CA, since November 2000. After looking for a very LONG time, we finally found our dream-come-true. Five gorgeous FENCED acres with a tremendous house, barns and lots of HD and trailer parking - just right for our business, family and all our critters.
We are very happy here doing chores, raising our horses and dogs, watching the sun shine and enjoying the almost perfect California weather. Specifically, we breed Pembroke Welsh Corgis (PWC) and American Quarter Horses. Also we enjoy riding our trusty trail horse duo at the river nearby, in the mountains, at the beach and horse-camping all over northern CA.
---

PUPPIES! NO PUPPIES available right now. For more information click HERE.

For a chuckle:
Puppies!
NO PUPPIES available at this time.

I have travel plans this spring and summer, so will not be breeding anything until late summer 2018. Check back then to see if I have announced a new litter. Once a new litter is confirmed a new waitlist will be started. You can email me then about joining the waitlist. Please read the information about our puppies on the litter pages (links) below, it will answer most of your questions. Thanks!
Our pups are not for retail sale. I am happy to answer any other questions you may have.
Photos and more information HERE about the Dec, 2017 litter.
Photos and more information HERE about the Dec, 2016 litter.
Photos and more information HERE about the Oct, 2016 litter.
AKC/UKC CH Misty Ridge Rumblestiltskin ROMX,
MXP MJP OFP T2BP CGC TKN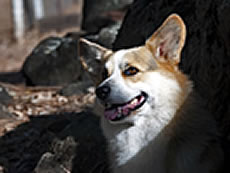 Many of his offspring have done very well in the show ring and in performance events around the country, including PWC Specialties. Presently Parker has sired 15 AKC Champions and Grand Champions which has earned him his Register of Merit Excellent status, and we look forward to hearing of more in the future. Currently he has offspring in TX, WA, CA, MI, ID, CO, AZ, AL, FL, OR, WY and Australia.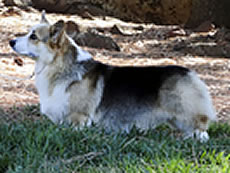 CH Misty Ridge Rumblestiltskin ROMX, aka "Parker," came to us in 2009 from Colorado. He was awarded RWD at the 2011 Golden Gate PWC Specialty and finished his AKC Championship a month later. Parker competed at the Masters level in AKC agility events but is now retired. He enjoys occasional visits from his lady friends, and he ESPECIALLY LOVES going horseback riding with us! (In fact, if left behind, he gets really mad!)
A few of Parker's Kids
Champions and Grand Champions to date:
GCH CH Rocky L Pennies From Heaven
BISS GCHS CH Corwinn Incredible Dash
GCHB CH Smithshire's Clear Red Celyn
GCH CH Dreamwinds Midnight Rendezvous
GCH CH Larklain Parkers Femme Fatale
CH Rocky L SS Aero Smith
CH Cadrmn Rocnl Luck Be A Lady
CH Cadrmn Rocnl's Lucky Spot
CH Corwinn Brave Merida
CH Corwinn Disney Magic At Pemhill
CH Corwinn Foxlore Ryder Flynn
CH Desprado Just Elegance
CH Dreamwinds Dark Warrior
CH Golden Road Halfling Prince
CH Golden Road Catherine Elizabeth
Contact Us
Quick Contact
CLICK Email: frelop@rockylranch.com
Thanks!

We'll get back to you as soon as possible.
For a chuckle: